ICE SKATING INFORMATION AT
UNION SQUARE ICE RINK
A holiday tradition, ice skating in Union Square promises to bring a smile to your face and delight to all who visit—big and small, young and old. Join us for festive, fun ice skating in Union Square from November 2, 2022 through January 16, 2023.
Plan your visit to The Safeway Holiday Ice Rink in Union Square presented by Kaiser Permanente–the coolest place to be this winter!
SKATING SESSIONS AND HOURS
Ice rink hours are from 10 a.m. to 11:00 p.m., daily.
60 minute sessions start every 90 minutes:
10:00 a.m. – 11:00 a.m.
11:30 a.m. – 12:30 p.m.
1:00 p.m. – 2:00 p.m.
2:30 p.m. – 3:30 p.m.
4:00 p.m. – 5:00 p.m.
5:30 p.m. – 6:30 p.m.
7:00 p.m. – 8:00 p.m.
8:30 p.m. – 9:30 p.m.
10:00 p.m. – 11:00 p.m.

Please note that we close at 9:30 p.m. on December 31, 2022. Check our calendar of events for any closed sessions.
---
ADMISSION
General Admission including skate rental: $20
Children 8 and under including skate rental: $15
Locker Rental: $5
Skate Helper: $6
Gloves: $5
Socks: $5
Note: Tickets must be purchased online, as there will be no on-site ticket sales, allowing the entire ticketing process to be touch-free.
The Safeway Holiday Ice Rink in Union Square presented by Kaiser Permanente has a "No Refund Policy". It does provide for refunds in very limited circumstances only – when a session is canceled or there is an extraordinary circumstance. If a refund is issued, it will not include the Convenience Fee.
A portion of ticket proceeds generously benefits the community through the San Francisco Recreation and Parks Department.
---
RENTALS
Ice Skates
Figure and hockey skate sizes range from toddler's size 8 to adult's size 15. If you'd like to bring your own skates, let us know upon arrival and we'll put $5 back on the credit card used in your original order.
For beginning skaters under 48 inches tall, we offer Skate Helpers: Penguin & Polar Bear Helpers that glide with the skater along the ice and help with balance and control. Skaters must be able to stand on their own and push the Helper by themselves. Others cannot push them.
For safety considerations, Skate Helpers cannot be rented to anyone taller than 48". These can be rented rink side or from the Skate Shop, onsite only. Limited quantity and available on a first come basis.
---
LOCKERS AND CONVENIENCES
Lockers may be rented for $5 and are large enough to hold a couple of pairs of shoes, a medium-size handbag and a few small purchases.
Restrooms are located in the Union Square Parking Garage. Since skates may not be worn outside of the ice rink, we recommend you use the facilities before putting on skates.
For your convenience, you may also purchase gloves or socks for $5 each.
---
PRIVATE PARTIES
Private parties are available on select Mondays and Tuesdays during the 5:30pm & 7:00pm sessions. On or before 12/13/22: Rate for private party is $5000. Rates for private parties in January: $4500. Sessions are not open to the public if sold to a private party.
---
RAIN POLICY
Rebook your Session:
Rebooking can only be accomplished online, please do not call to cancel or rebook. To rebook your session, please open the confirmation you received via email. Just above the yellow "Your Ticket" section, click "Change booking" to rebook. From there you can choose another available session.
Cancellations:
If your ice-skating session prematurely ends or is canceled due to inclement weather or the threat thereof, your tickets are valid for any new date and time that is available on or before January 16, 2023.
The Ice Rink has an "Exchange Only Policy". It does provide refunds in very limited circumstances only, or there is an extraordinary circumstance. If a refund is issued it will not include the Convenience Fee.
---
A WORD ABOUT SAFETY
As we continue to keep a close eye on the latest COVID-19 developments, we are working to ensure that The Safeway Holiday Ice Rink in Union Square presented by Kaiser Permanente is safe and accessible for our guests. We will follow all county, city, state and CDC guidance and adjust our operations as needed.  You can read our entire COVID-19 Safety Protocol.
---
WHAT TO WEAR
As with most activities in San Francisco, the key to comfortable ice skating in Union Square is to wear layers; the temperature on the ice may range from chilly to warm, depending on the time of day, the number of skaters and the amount of energy one exerts. Gloves and hats always help. We do sell both gloves and socks if you need them.
---
GETTING HERE
Located at 333 Post Street in San Francisco, our ice rink sits in the heart of Union Square near the corner of Geary and Powell Streets. Numerous transportation options are available, and we encourage environmentally-friendly considerations such as walking, biking, riding Muni, taking BART or ridesharing.
Drive: If driving, signs lead to Union Square from most area freeways. Area parking garages provide plentiful parking options.
Walk: If walking from North Beach or Chinatown, take Grant Street south through the Chinatown gate to Maiden Lane, then turn right.
Bike: Bike paths are located nearby on both Market Street and Post/Sutter streets. Nearby parking garages offer bike parking.
Public Transit: If taking public transit, the SFMTA's transit trip planner provides the most comprehensive schedules and routes for all options, including:
BART from the East Bay or south of San Francisco. Exit at the Powell Street station
San Francisco Muni bus lines 2, 3, 38 and 38R and 76X stop at Union Square
Powell-Mason and Powell-Hyde cable car lines stop in Union Square
San Francisco's historic trolley car "F" line stops nearby at Market and Powell Streets
Take Caltrain to the San Francisco 4th & King stop, transfer to Muni bus line 30 or 45 & get off at Stockton/Sutter
---
EATING HERE
For a dining experience, visit our sponsoring restaurant John's Grill. Located a quick two block walk from the ice rink.
---
STAYING HERE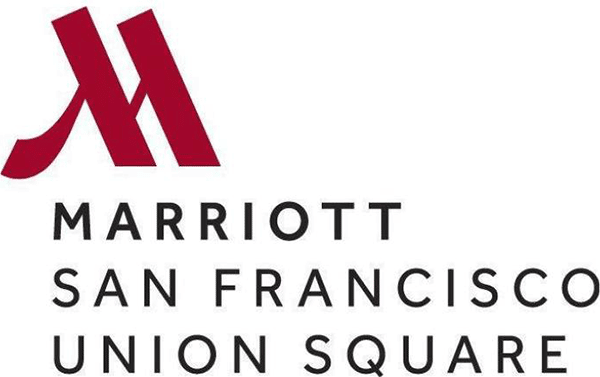 San Francisco Marriott Union Square
Join us as we celebrate the magic of the season with this special holiday package that is sure to create lasting memories. Enjoy ice skating with your loved ones, surrounded by twinkling lights and festive decorations at the Safeway Holiday Ice Rink in Union Square presented by Kaiser Permanente. The rink is only one block from the hotel. Package includes two admission tickets to the rink and 2 complimentary ice skate rentals. Book today!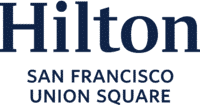 HILTON SAN FRANCISCO UNION SQUARE
Make the Hilton Hotels of San Francisco, located steps from shopping, restaurants, and theaters, your cheerful holiday home base in the city. Book Hilton's Skate and Stay package to receive two (2) discounted Union Square Ice Rink tickets including skate rentals with your booking. During the holiday season the hotel features activities for the whole family including Elf Encounters for the little ones. To book your stay, visit hiltonsanfranciscounionsquare.com or Parc55.com and use the Special Rate code "P4".

HOTEL EMBLEM
Book your stay at Hotel Emblem between November 2, 2022 and January 16, 2023 and keep warm with a delicious cup of TCHO Hawt Chocolate (maybe ask our bartender to add a little something to keep you extra warm) as you walk over to the Union Square Ice Rink to skate in this iconic and historic part of San Francisco. No need to bring your own skates, they will be provided for you. Come back and spend the night in one of our well-appointed rooms and feel free to stay cozy in bed the next morning with a late checkout. Happy Holidays from Hotel Emblem! Book today!
Offer includes: arrival cocktail for 2, TCHO Hawt Chocolate for 2, ice skating tickets for 2 and late checkout (based on availability). Book starting October 1, 2022 for stays between November 2, 2022 and January 16, 2023. Rates and availability are subject to change based on travel dates. Rate is per room/per night, based on single or double occupancy, exclusive of taxes, gratuities, fees and other charges. Rate does not apply to groups; cannot be combined with any other offer.

GALLERIA PARK
Find your merry this holiday season in the City by the Bay. San Francisco is something extra special during the holidays, and we can't wait for you to unwrap the city's gifts. Experience the magical Union Square ice rink, an urban winter wonderland unlike no other, from November 2, 2022 to January 16, 2023 with our Union Square Ice Skating Rink Package. Enjoy room rates from $179 per night, as well as, up to 4 ice skating rink tickets (skate rentals included). Enter promo code SKATE when booking.

GRAND HYATT SAN FRANCISCO
Glide across the ice with friends and family and spend the night in the heart of Union Square in San Francisco! With our Skate Around the Square package, guests will enjoy one admission ticket per registered guest, giving access to the Holiday Ice Rink in Union Square (includes skate rental). Union Square is only a two-minute walk from our hotel. Rink admission promo codes will be given to guests upon arrival at the hotel, which guests can use to book their ice skating reservations online. For questions about Ice Rink reservations, please call 415-295-1588. Use offer code SATC22 when booking.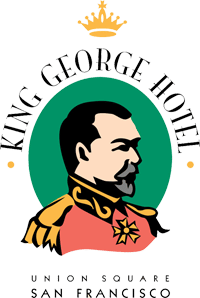 KING GEORGE HOTEL
Book our Stay and Skate Package, which includes two admission tickets to The Safeway Holiday Ice Rink in Union Square presented by Kaiser Permanente (includes skate rental) and complimentary chocolates at check-in. Enter code "SKATE23" at www.kinggeorge.com.
Receive up to 20% off best available rate
Complimentary chocolates at check-in
Ice skating tickets for 2 (includes admission and skate rental)
Book before January 06, 2023
Stay anytime November 02, 2022 through January 15, 2023
---
THINGS TO DO

From the producer of The Lion King and Aladdin, FROZEN, the Tony®-nominated Best Musical, is now on tour across North America and the critics rave, "It's simply magical!" (LA Daily News). Heralded by The New Yorker as "thrilling" and "genuinely moving," FROZEN features the songs you know and love from the original Oscar®-winning film, plus an expanded score with a dozen new numbers by the film's songwriters, Oscar winner Kristen Anderson-Lopez and EGOT winner Robert Lopez. Oscar winner Jennifer Lee (book), Tony and Olivier Award winner Michael Grandage (director), and Tony winner Rob Ashford (choreographer) round out the creative team that has won a cumulative 16 Tony Awards. An unforgettable theatrical experience filled with sensational special effects, stunning sets and costumes, and powerhouse performances, FROZEN is everything you want in a musical: It's moving. It's spectacular. And above all, it's pure Broadway joy.
At the Orpheum Theatre November 18–December 30. For tickets go to BroadwaySF.com.
---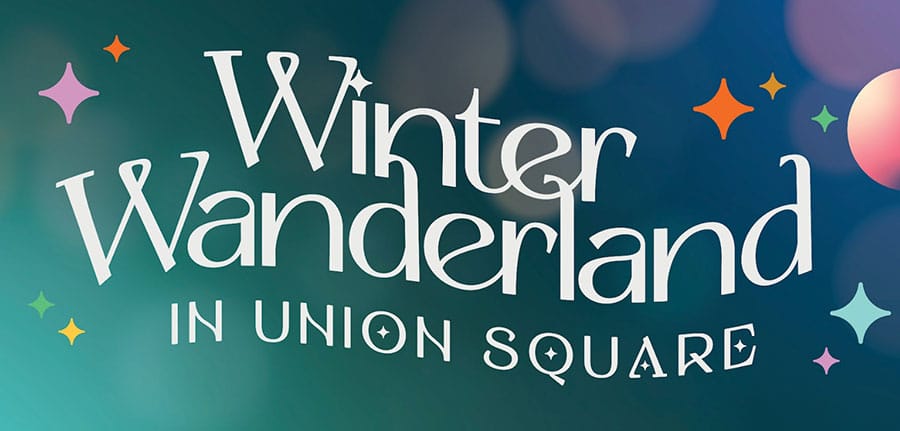 Walk and meander in Union Square through its Winter Wanderland Holiday Village in Hallidie Plaza. Discover local, handmade gifts, holiday tree decorations, snow flurries, sweets, and warming drinks, along with live family-friendly entertainment like magicians and carolers, and a larger-than-life snow globe photo opportunity for people of all ages to enjoy. Celebrate culture, community, and holidays in Union Square.
At Hallidie Plaza (Market and Powell Streets), November 25 – December 24*. Closed 11/28, 11/29, 12/5 and 12/6. Hours: 12pm - 7pm. For more information, visit winterwanderlandsf.com.
---